Lately there has been healthy debate on women's rights and women's bodies that are over sexualised in mainstream media. From The Sun Page 3 girl, to gossip magazines obsession with women's bodies to lads magazines, where women have become nothing more than sex object with innuendo poses of ''Come and get it''.
The Sun and its infamous page 3 could be over soon. recently new editors of the newspapers announced that they'll change gear... we'll see.
No More
Page 3 was started by Lucy Holmes and is supported by Green MP Caroline Lucas and Unison and many more.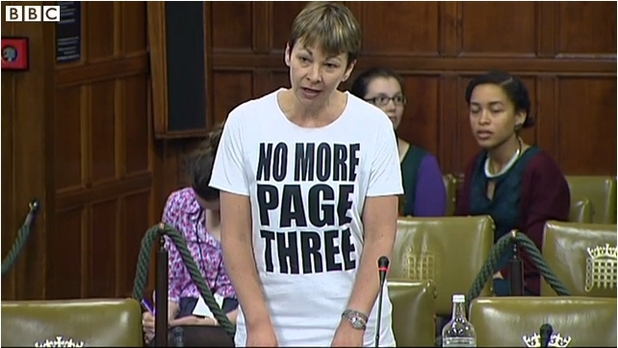 UK Feminista and Object with their quest to ban demeaning lads magazine from our supermarkets shelves.G
ot
Romola Garai one of the best British actress around to campaigned for them.
Many women's groups have been campaigning to ban these magazine and remove them from the shelves our stores, where woman are dehumanized as nothing more than sexual objects.
Tesco announced on 3rd of August that they have stricken a deal with lads magazines such as Front, Nuts and Zoo that they'll sell these magazines only to over 18 year olds and Bizarre magazine will come in paper bag.
Tesco said with the Lose The Lads Mags campaign and their customers had an effect on their decision.
Tesco said ''To do that we have secured agreement with the publishers of Zoo, Nuts and Front that their magazine covers will be more modest from now on. And the publishers of Bizarre will now supply the magazine in paper bag.''
Tesco joins Co-Op who announced that a
fter receiving huge complains from their customers. Co-Op announced recently that they'll ban magazines with overtly sexual covers and they have given magazines such as Nuts and Zoo until 9th of September 2013 to put modesty sleeves on their magazines.
Upon hearing this
Big Brother alumni and lads magazine favourite Chantel Hayes gave dumb ass excuse for lads magazines. She claimed ''that they celebrated normal bodies''. It seems in Chantel Hayes's world where bills are paid with taking her kit off for the lads magazines. Normal body in their world is a surgically enhanced photoshopped to death glamour model. Such as Chantel herself
Lads magazine once were stable of success they sold by the bucketload and any big brother alumni or Z celeb who dated some footballer or ''pop singer'' found a job on the cover of these magazine by taking their kit off. And some household names such as Jordan and her co started their careers by taking their kit off on the cover of these magazines.