They say picture speaks thousands words (don't know who they were, but somehow they got it right).
One simple image can give out thousands different meanings to different people.
What is Marilyn telling you?
and what connotations does Patti give out
Of course pictures are valuable, one picture can remind you of great moment or vice versa.
Now days we are all photographers of course with our mobiles and
and digital cameras.
Whether we take incredible images with our mobiles phones, well that is open for discussion, there is though awards to be won if you have taken an creative picture.
As closet photographer(someone who would never go pro, but still enjoys taking more ''professional photographs'') I am, one of those people who can see photographs as art,
especially black and white photographs. For me B&W photographs are more powerful than colours ones, they have an aura and something.
I am not dismissing real art,
art can be therapeutic and some sculptures have the power to stop you on your tracks.
Example of this is Bernini's Apollo and Daphne you can't help but admire this sculpture by one of the renaissance's best artist.
The man was genius with marble.
Rodin is another genius, sculpture The Kiss
or the thinker
Seeing the work of Rodin and Bernini makes you appreciate the beauty of sculpture.
Remember seeing the Rodin's work in 2007 in Royal Academy of Arts and just being inspired and seeing the Thinker always make you think of the meditation of intellectual activity (I was second year university student, don't judge me harshly now)
Great Masters evoked emotions with their sculptures and paintings.We are still asking and dedicating hours just to figure out the Leonardo Da Vinci's enigma that is Mona Lisa
Of course I am not comparing black and white photographs to great painting by Leonardo da Vinci, Botticelli or sculptures by Rodin and Bernini.
Great masters work have inspired many photographers such as
king of kitsch pop art David LaChapelle, here is LaChapelle's
reworking of Botticelli's Venus and Mars
re
titled 'Rape of Africa' with Naomi Campbell (naturally) cast as Africa.
These days picture can be window into people's life (cliché).
We have all seen pictures that have shocked us or inspired us.
Picture can make you think of someone's life, even if you don't know the person.
Example of this photojournalist S

teve McCurry's photograph of a young green eyed Afghan girl,
Steven meet the green eyed orphan girl in the Afghan-Pakistan border during the Soviet war in the eighties. He took
two pictures of the girl that became to know world over as the 'Green eyed Afghan girl'' or the Afghan Mona Lisa her name is Sharbat Gula.
.
One of the pictures Steven took is today one of the most
recognisable
photographs in the world. And that is the one that ended up on the cover of National Geograph
ic
Many wondered what happened to the girl with green piercing eyes. Since the picture was taken high of Soviet War. Unknown to her, her image has become powerful and symbol of the war. Child oprhaned by the war ended being imitated world over
Her face has been photoshopped on the body of model numerous times
25 years later the green eyed Afghan girl is mother of three girls and now she lives in Afghanistan.
Sharbat was 12years old when that world famous photograph was taken in 1985.
She was found in 2002
That picture of that Afghan girl with the piercing green eyes is of one few colour photograph of war that make you wonder of the fate of the photographers subject. That picture has haunting quality to it.
Same way the black and white photographs of the Vietnam war shocked you and made you think. To me the fact that photograph of girl burned by napalm and and children screaming in agony was made more haunting by the fact it was black and white photograph.
Picture can make you wonder of people's life's or become symbol of revolution like that simple yet powerful portrait of Ernesto 'Che' Guevera
Simple picture can become more powerful than any speech sometimes. The Iwo Jima flag rising picture taken by Joe Rosenthal of five US marines rising their countries flag on the top of mount Suribachi in Japan in the end of world war two
is today one of the greatest war photographs ever. That photograph evokes nationalist pride to many. So much can be read into that one image of those soldiers.
Images can shock you too
W. Eugene Smith's Tomoko Uemura in her bath
is powerful. Here you have mother cradling lovingly her naked deformed daughter in traditional Japanese bathing chambers.
There is so much beauty in that picture as there is many other emotions.
This photograph brought the attention of the world to the issue of plight of Minamata disease sufferers. I love this photograph. First when I saw didn't know what to make of it. Now I find beautiful, its picture about love between parent and child no matter what disabilities they may have. I love the look on the the mothers face.
Another photograph by photography pioneer which I have posted before and spoken of is Henri Cartier Bresson's Jumping man
Photography can make you appreciate the beauty of fellow human beings, whether its portrait of two Peru native kids taken by Irving Penn
or three Moroccan village elders from Khenifra
I love this photo of these three North African wise man, look at the two buddies at front and the one on the right leaning forward.
Irving Penn was without doubt one of best photographers ever. And I admire the fact that he treated everyone he photographed the same.
His subject may varied from models and celebrities to normal people from around the world.
One thing connected them all and it wasn't not the fact they were all photographed by Irving, but in each shot Irving used simple backdrop and natural light

. And without making this into case study, Irving was one

of the first photographers that used plain background. This way Irving could to draw better focus on subjects and bring better focus on their facial and body expressions. Of course back of this he created new 'artisitic portraits'. of course his photographs have been imitated and also become a blueprint for photography students. And even Madonna has paid him homage you could say, in Vogue (the music video not the fashion bible)
This photo was Vogue cover in 1950 and here is Madonna
Madonna isn't the only who paid homage to great photographers. Beyonce's last album I am...Sasha Fierce was full of images that were inspired by the work Peter Lindbergh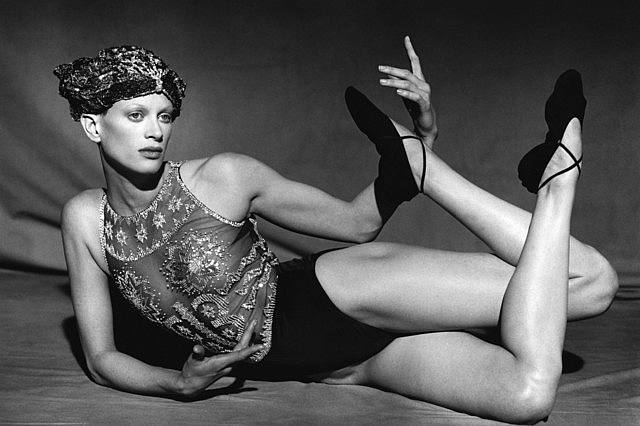 In the original the model is 90's model Kirsten McMenamy (untouched aka not retouched) photograph from 1993. Kirsten looks she could be ballet dancer or dancer in hareem.
When the image was re worked for Beyonce in 2008 it became to robotic.
Peter took the promo pictures in Beyonce's last album.
And the black and white
photographs
by
Peter Lindbergh, Richard Avedon,Herb Ritts and Steven Meisel are like art to me.
Peter Lindbergh's Fantasy and Flight with Linda Evangelista in down town New York looks other worldly. Linda seems as she floating air blown upwards by the fog of New York.
Here is Linda again this time photographed by Steven Meisel looking ethereal and strong.
Herb Ritts's
Versace advert from 1992 with Linda Evangelista and her fellow supermodels is just one of my favourite top 30 images (Yes I have list of favourite images)
another amazing photograph by Herb Ritts (just one drop in ocean of his portfolio) is Tatjana Patitz veiled head in Joshua Tree
And another Herb Ritts veiled face of model whose name I don't know
and I l love this photograph of Christy Turlington by Herb
Another image that I absolutely love is by Patrick Demarchelier. It's a black and white photograph
of model in infinity pool or ocean.
It's perfect photograph for escapism
Toni Frissell is another photograph that has amazing water photographs, especially this
if you turn it upside down it seems as the model is diving into the water.
Love it!
forget about dancing in the dark it all about dancing in water.
Then there is Richard Avedon, king of portraits. Richard's images were mostly black and white and full of life and action.
His Elephant and the Beauty (Dovima) is one of most copied photograph from the past fifty years or so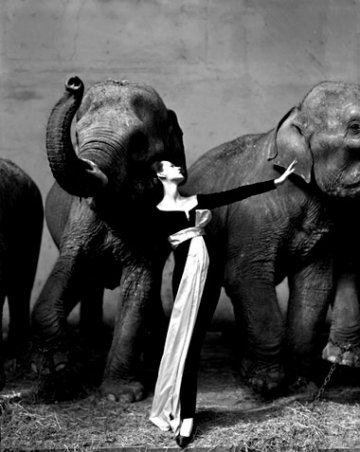 Rankin paid homage to Richard Avedon Beauty and the Beast with Erin O'Connor as Dovima
and many more have copied it.
My favourite Richard Avedon photograph is that if Linda Evangelista
I love how Richard capture moment like these, where models seem as they caught half way of falling or rising( some adoration talk there)
Then there is Helmut Newton no B&W photography list can ever be without that name. Even though Helmut (smut) work was more sexual most of the time. The man was genius on many levels.
Here is few of my favourite photographs by Helmut. First one is that now infamous Le Smoking photograph of 70's Yves Saint Lauren't muse LouLou de la Falaise wearing head toe Yves Saint Laurent taken in Parisian backstreet for Vogue Paris.
My favourite Helmut photograph is the Verusckha one of my all time favourite models ever
she looks like panther in this photograph
Then there is those pictures with the veiled woman, by Jean Baptise Mondino which I find beautiful and inspiring
Jean Baptiste Mondino images woman in silk burgas with designer wear of course sends you towards one part of the world. The gulf, where these ladies are the lady who lunch.