She has been talking about her perfume some time now, but its finally here. Rihanna released the advert for her 'debut' perfume with the tagline
''
Good feels so bad, bad feels so good''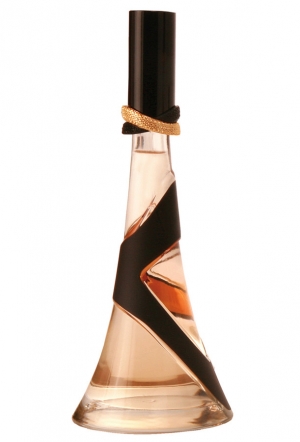 The bottle which glows from within is designed in shape of high heel and also adorned with silken ribbons and a golden ring. Reb'l fleur layered notes are.
TOP NOTES ARE
Peach,plum and red berries.
THE MIDDLE NOTES ARE
The ever so trustworthy Tuberose,Violet,coconut and another trustworthy ingriendient Hibiscus
THE BASE
Musk (you know its going to be intense) Patchouli, amber, and Vanilla.
Rihanna got it right as her perfume is
intense and daring fruity chypre.
The ''raunchy'' singer joins long list of female singers who all launched perfumes.
Beyonce is about to release her second perfume Heat Rush
Rihanna's BFF Katy Perry released her first perfume Purr (playing the Katy) just a while ago
.
and Shakira's second perfume S by Shakira
will be released in spring in UK
I
f you interested you can read more on
about the all the other stars who jumped on the perfume wagon on
http://ikranm.blogspot.com/2010/08/everyone-is-at.html