There are few games in the world of football that get people as excited as match between eternal enemies L'eguip blaugrana and Los Blancos.
El Clasico is also battle of will between
two of best players in the world Messi and Ronaldo.
It was also battle of wills between Pep Guordiola and
''The special one'' Jose Mourinho
who used to work for Barcelona back in the 90's as translator. Every coach has krypton and Jose's it is Nou Camp where he has never won since he became a coach. Monday's El Clasico was as usual a interesting game. There was twelve yellow cards and one red card.
Then there was that push from Ronaldo gave to Pep(tsk tsk)
Then there was that
red cards worthy behaviour from Sergio Ramos (He got the only red in the match).
Later

Sergio Ramos said "I talked by phone with Puyol and Xavi yesterday. I admitted I as wrong and I apologized."
Even though Messi is without a doubt in a league of his own, his imitation of Gillian McKeith's fainting was even for Barça fan a shameful.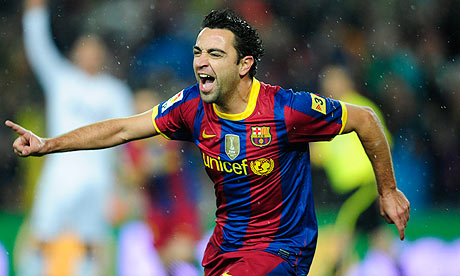 Xavier Hernandez (Xavi) scored the first goal of the game in less than ten minutes. David Villa followed with two goals
.
and Jeffren Suerez.
Real can get their revenge in March when the teams meet again, this time Barça will pay a visit to Bernabeu Stadium in Madrid. Jose Mourinho described the 5-0 thrashing by Barcelona as worst defeat of his career, he continued to that the game was "a loss, not a humiliation."
"Every game has it's own history. What happened against Barcelona isn't final." Barça beat Real last year 6-2 and they got the same result back in 1994 when they won 5-0